Unicontrol 3D Excavator
A SIMPLE AND STRAIGHT FORWARD SYSTEM Unicontrol3D is a highly intuitive 3D machine control system for all types of excavators. Our mission is to simplify the operator's job and avoid unnecessary challenges – this is why we have developed a highly intuitive and easy-to-learn system that doesn't require pre-existing technical knowledge. It should be easy […]
A SIMPLE AND STRAIGHT FORWARD SYSTEM
Unicontrol3D is a highly intuitive 3D machine control system for all types of excavators. Our mission is to simplify the operator's job and avoid unnecessary challenges – this is why we have developed a highly intuitive and easy-to-learn system that doesn't require pre-existing technical knowledge. It should be easy to dig a hole.
If you're interested, you can read more about the specific components of Unicontrol3D on this page.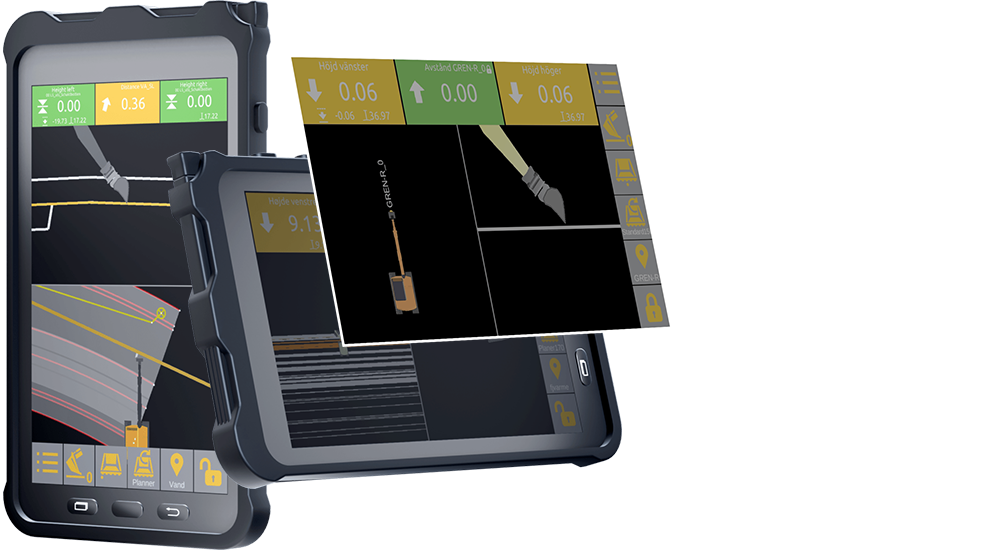 SENSORS
Our fast-tracking sensors continuously keep you updated and accurately informed about your work progress. The sensors cover everything from pitch/roll, boom, stick, tilt through to bucket. Unicontrol3D supports swing boom, dual boom, and tilt rotator with dedicated sensors. Slopes and depth are updated continuously, resulting in fast and precise execution. Further technical specifications are available on our datasheet at the end of the page.
ANTENNAS
With a Dual GNSS box and antennas, you can execute positioning tasks without the wait and ensure accuracy, fewer errors, and increased productivity.
TABLET
The familiar consumer-friendly android system, and portable wireless screen, streamline your work. The simplistic interface provides easy access to menus and data – just a few touches on the screen, and you are ready to go. With everything at hand, the wireless tablet is built for a life on construction sites.
DATAFLOW
With your current cloud solution, you can upload design files, share and update your project data. The ability to transfer data between machines and workstations in no time gives you access to your data, no matter the location.
Documentation